Isotopes in Spatial Ecology and Biogeochemistry (SPATIAL Short Course)
Focus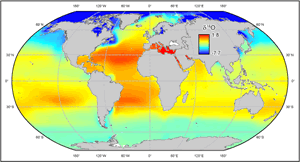 The SPATIAL (Spatio-temporal Isotope Analytics Lab) Short Course represents a bridge between theory and measurement, introduced in ITCE Course 1, and regional-to-continental scale research. It builds on the skills and knowledge base developed in Course 1 or equivalent stable isotope biogeochemistry coursework to introduce current research themes in large-scale ecology and environmental Earth science, theoretical and technical aspects of assembling and working with large, spatially distributed datasets, and analytical and computational tools available to support such work. The course emphasizes stable isotopes as a research tool, and their unique capacity to address many ecological problems, but also stresses the integration of isotopes with other data types and methods within a geospatial framework.
Structure
Morning lectures focus on the theoretical underpinnings of spatial structure in a range of isotopic systems and how these are applied to address scientific challenges in multi-scale ecological, biogeochemical and Earth science research. Afternoon laboratory sessions introduce students to tools and techniques for working with spatially explicit environmental datasets, including geodata identification, acquisition, management, and analysis, using real data from published and unpublished sources.
Themes
Earth surface systems - Environmental, biological, and anthropogenic controls on ecological and biogeochemical structure
Fluid systems - Source, transport, and reactive process controls on the distribution of isotopic and other biogeochemical tracers
Animal systems (including humans) - Inference of behavior, physiology and movement from spatial data; animal influences on biogeochemical systems
Prerequisites
The SPATIAL course will assume that incoming students are familiar with the fundamentals of isotopic fractionation in key Earth systems (water cycle, carbon cycle, nitrogen cycle, plant and animal systems). These topics will be reviewed briefly during relevant lectures, but not covered in detail. Graduates of ITCE Course 1 or individuals with equivalent experience will be given preference in admissions decisions. Experience with GIS or spatial analysis is not required but beneficial.
Details
June 11-22, 2018
Venue: Frederick Albert Sutton Building, University of Utah
Enrollment limit: 25 (lecture + lab), 10 (lecture only)
Graduate level credit hours: 6 (lecture + lab), 3 (lecture only)
Fees: $2,300 (lecture + lab), $1,150 (lecture only)

Includes all course materials, TRAX pass, lab resources, and several evening meals when evening lectures occur.
Financial support available to a limited number of graduate students. If interested, please apply for participant support when submitting your course application.

Lodging: Lodging rates are negotiated each year, and range from about $80-$180 per day, depending on room type and occupancy.
Meals: Dinners are provided when evening lectures are scheduled (5-6 meals), and hot breakfast is included in the hotel lodging. Attendees are responsible for all other meals during the course. (For your convenience, hotel rooms have fully equipped kitchens for the preparation and storage of food.) There are other dining options on or near campus.
Application window for the 2018 course will be December 4th, 2017 through February 3rd, 2018.
2017 Course Schedule
To view last summer's schedule of events, click here.
ITCE News!
2018 course application window is now closed - admission decisions by end February
October:
New Publication – SPATIAL and IsoCamp alum Cat Jarman develops ITCE research-in-residence project and reports paleogenomic analysis of skeletal samples in determining the origins of inhabitants of Rapa Nui. Read the paper published in Current Biology (here)
Open PhD position - The research group of Prof. Kahmen at the University of Basel just published an open ERC-funded PhD position in stable isotope physiology. Read it (here).
May:
New Publication - Marine isoscape paper from ITCE research-in-residence team including SPATIAL alum Sarah Magozzi, SPATIAL instructors Clive Trueman and Michael Wunder, and former ITCE post-doc Hannah Vander Zanden! Read it (here)!
New Publication - Marine Biology paper by SPATIAL alum Julia Adams (2015). Link to full-text article (here)!
March:
New Publications - Two new papers by SPATIAL alum Sean Brennan involving salmon migration (here) and using dendritic network models to improve Strontium isoscapes (here)!
January:
New Blog Post - Former SPATIAL student Katie Wedemeyer-Strombel discusses her experience as a SPATIAL student last summer! (Check it out here!)
---
IsoMAP is a dynamic, online workspace for spatial analysis, modeling and prediction of stable isotope ratio variation in the natural environment. The initial realease of the IsoMAP gateway is now live and supports precipitation isotope ratio modeling. Visit IsoMAP to learn more or to start making isoscapes today!