Getting Ready
The SPATIAL course is held at the University of Utah, an urban campus situated on the eastern edge of Salt Lake City and abutting the wildlands of the Wasatch Mountains. This location provides easy travel and urban access via light rail and the city's excellent bus network. Most students stay at course-arranged hotel accomodations near downtown Salt Lake City, where they are within easy walking distance of a large number of restaurants, bars, and attractions; the bus commute to campus takes around 20 minutes.
The campus and city as a whole offer excellent access to outdoor recreation in the adjacent Wasatch Mountains and desert and wetlands environments surrounding the Great Salt Lake. Popular summer activites include hiking, camping, birdwatching, fishing, and moutain biking. Utah's southern deserts and their 5 national parks are between 4 and 6 hours from Salt Lake City by car.
Salt Lake City is situated at approximatley 1300 meters elevation in a semi-arid desert environment. Mid-summer temperatures are mild and plesant at nighttime (~17 C on average) and can climb into the mid-30's during the day. Humidity is low, however, and although temperatures can be warm most people find the weather to be more comfortable than in places with hot and humid summers. We will spend at least one day in the moutains at higher elevation, where you can expect milder temperatures and, particularly int the evening, may need a warm layer.
You will want to come prepared to be comfortable indoors and out, and in a range of conditions. Good sun protection is a must, including a comfortable hat with brim, a light-weight, long-sleeve shirt, and sunscreen. You may find that you want lip balm and/or moisturizer to help you adjust to the low humidity. Although serious hiking boots are not essential for the course activities, you may want to bring a combination of footwear including sandals and hiking shoes.
SPATIAL News
The 2023 SPATIAL Course will be July 31 - Aug 11
Admissions decisions have been announced...see you in July!
---
---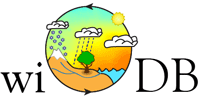 The Waterisotopes Database and isoBank are community resources to develop FAIR data repositories for isotope science. Get involved, find and share data!