Program Details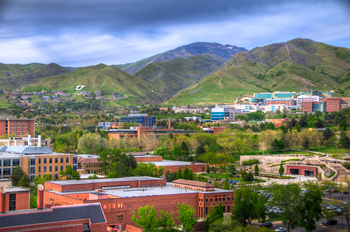 The SPATIAL course is held each summmer on the University of Utah campus in Salt Lake City. We are planning to host the 2021 course in person from August 2-13. The organizing team is closely monitoring the COVID-19 situation, and will establish and communicate guidelines for the course to promote the saftey of all participats, as well as a timeline for making any decision about postponement or alternative modes of instruction, if necessary.
SLC international airport is a major travel hub with many convenient connections, and public transport within Salt Lake City is provided to all participants.
The course negotiates discounted lodging in downtown Salt Lake City. These hotel suites offer personal sleeping rooms and shared living space with a small kitchen. Rates are negotiated each year, and range between ~$50 and $100 per day depending on room type and occupancy.
Dinners are provided on days with evening lectures or social events (5-6 meals), and hot breakfast is included in the hotel lodging. Attendees are responsible for all other meals during the course. There are many dining options downtown and on or near campus.
A course fee is charged to all participants and is revised each year to cover the cost of offering the course. Fees pay for instructor travel and participation, administrative support, local transportation during the course, and snacks, meals and events. The anticipated fee for the 2020 course is $2,350 for the full lecture/lab course, or $1,175 for participants registering for the morning lectures, only.
A limited amount of financial support is available to partially offset course costs for students based on need and merit. Applications for support are submitted along with the course application.
Students can obtain course credit for SPATIAL (3 hours each for the lecture and lab sections). Credit is offered through the University of Utah Continuing Education program and is transferrable to most graduate programs.