Summer short courses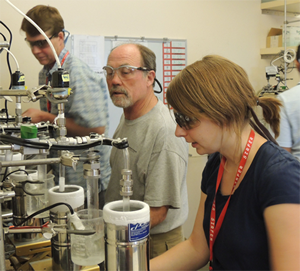 The ITCE program offers a sequence of two, 2-week, summer short courses to graduate students, postdocs, and interested faculty and researchers. Read More
Course 1, Stable Isotope Biogeochemistry and Ecology (aka Iso-Camp), emphasizes fundamental environmental and biological theory underlying isotope fractionation processes and a broad spectrum of ecological and environmental applications.
Course 2, Isotopes in Spatial Ecology and Biogeochemistry (aka the SPATIAL Short Course), extends on the fundamentals covered in course 1 to develop theory and techniques for applying isotope and biogeochemical tracer data to spatial problems at a range of scales.
Application Process
Applications for the 2015 ITCE short courses are currently being accepted! Read More
Scholarships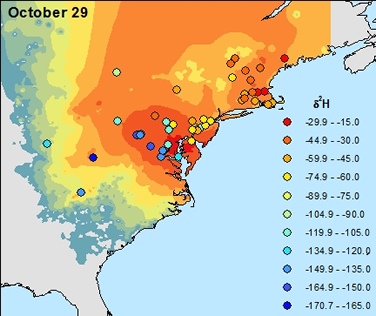 Support from the National Science Foundation allows the ITCE program to provide scholarship support for a limited number of student participants in each course. Scholarships will be awarded competitively and are available only to applicants who are graduate students. Scholarship applications can be submitted as part of the course application process, and require an additional short essay and second letter of support.
Post-course Opportunities
Student participants will be eligible for project-supported, post-course exchange visits to conduct research in residence at with one or more ITCE instructors.
ITCE News!
---
CONGRATULATIONS to Stephen Good, who recently accepted a faculty position for the fall at Oregon State University!
---
Postdoctoral Opportunity! Applications being reviewed beginning Feb 23! View complete announcement here.
---
July:
New publication - Good, Noone, & Bowen quantify evapotranspiration subcomponents & hydrologic connectivity of soil & surface waters in Science (here)!
June:
New publication - Good, et al. discuss D/H ratios in global water cycle - Geophysical Research Letters (here).
May:
In the media - Post-doc Daniel Mendoza, John Lin, Kevin Gurney, and others, discuss developments with the Hestia data project. Check it out here!
March:
New publication - Vander Zanden et al. in Ecological Applications here).
New publication - Gorski et al. in PNAS (here).
In the media - G. Bowen on KSL discussing the PNAS paper findings (watch it here!)
February:
New publication - G. Bowen and S. Good have a new synthesis paper out in WIREs Water (here).
January:
In the media - Post-doc Logan Mitchell took a ride on KSL's Chopper 5 to collect air quality data at different elevations throughout the valley. See it here!
In the media - ITCE post-doc Logan Mitchell's TRAX air-quality research on Fox 13 News! Watch the interview here!
---
Congratulations to the
RECIPIENTS
of our 2014-2015 Research-in-Residence Awards!
---
IsoMAP is a dynamic, online workspace for spatial analysis, modeling and prediction of stable isotope ratio variation in the natural environment. The initial realease of the IsoMAP gateway is now live and supports precipitation isotope ratio modeling. Visit IsoMAP to learn more or to start making isoscapes today!