Summer short courses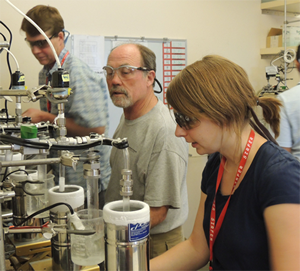 The ITCE program offers a sequence of two, 2-week, summer short courses to graduate students, postdocs, and interested faculty and researchers. Read More
Course 1, Stable Isotope Biogeochemistry and Ecology (aka Iso-Camp), emphasizes fundamental environmental and biological theory underlying isotope fractionation processes and a broad spectrum of ecological and environmental applications.
Course 2, Isotopes in Spatial Ecology and Biogeochemistry (aka the SPATIAL Short Course), extends on the fundamentals covered in course 1 to develop theory and techniques for applying isotope and biogeochemical tracer data to spatial problems at a range of scales.
Application Process
We will be accepting applications for the 2017 ITCE short courses from December 5th, 2016- February 3rd, 2017. Read More
Participant Support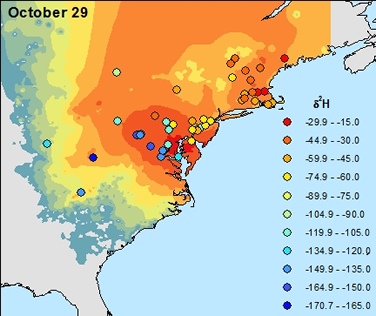 Support from the National Science Foundation allows the ITCE program to provide participant financial support for a limited number of student participants in each course. Support will be awarded competitively and is available only to applicants who are graduate students. Applications for participant support can be submitted as part of the course application process, and require an additional short essay and second letter of support.
Post-course Opportunities
Student participants will be eligible for project-supported, post-course exchange visits to conduct research in residence at with one or more ITCE instructors.
ITCE News!
AGU Fall Meeting is approaching! Check out a list of ITCE-related talks & posters here.
---
Dates for 2017 Summer Courses are set for June 12-23rd, 2017! Application window will open on December 5th.
---
Congratulations to the twelve recipients of the 2016-2017 Research in Residence awards! Read about their plans here!
---
SPATIAL Instructional Video Modules Available Now! Look for them under the Summer Courses Tab above.
---
September:
Awards - Former ITCE post-doc Jennifer Cotton has received an NSF Macrosystems Biology Grant. Congratulations, Jen! (Check out the NEON press release here!)
New Publications - Former SPATIAL student Chabi Djagoun's work on carbon isotope niches in herbivores in a west African savannah is now available in Mammalian Biology - Free download until Nov 7th! (Check it out here)
July:
New Publications - Former SPATIAL student Giovanny Mosquera in two new publications involving high elevation tropical ecosystems (Hydrological Processes and Hydrology and Earth System Sciences)
May:
Awards - Congratulations to Jim Ehleringer for receiving the prestigious Rosenblatt Prize for Excellenc! (Read more here.)
April:
Presentations - Several SPATIAL & IsoCamp instructors and past students represented at the 10th annual (ISOECOL meeting in Tokyo!) last week.
March:
New Publication - Vander Zanden et al. discuss the use of H & O Isotopic ratios in food web studies in Frontiers in Ecology & Evolution! (here!)
November:
New Publication - Former SPATIAL student Ritika Kaushal in Ecological Indicators! Check out the proof here!
New Publication - Vander Zanden in Journal of Avian Biology (here)!
---
---
IsoMAP is a dynamic, online workspace for spatial analysis, modeling and prediction of stable isotope ratio variation in the natural environment. The initial realease of the IsoMAP gateway is now live and supports precipitation isotope ratio modeling. Visit IsoMAP to learn more or to start making isoscapes today!