Summer short courses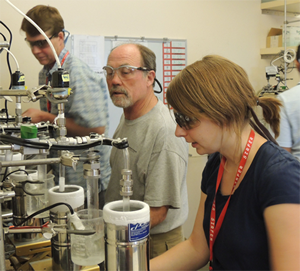 The ITCE program offers a sequence of two, 2-week, summer short courses to graduate students, postdocs, and interested faculty and researchers. Read More
Course 1, Stable Isotope Biogeochemistry and Ecology (aka Iso-Camp), emphasizes fundamental environmental and biological theory underlying isotope fractionation processes and a broad spectrum of ecological and environmental applications.
Course 2, Isotopes in Spatial Ecology and Biogeochemistry (aka the SPATIAL Short Course), extends on the fundamentals covered in course 1 to develop theory and techniques for applying isotope and biogeochemical tracer data to spatial problems at a range of scales.
Application Process
Applications for the 2016 ITCE short courses will be accepted in December, 2015. Read More
Scholarships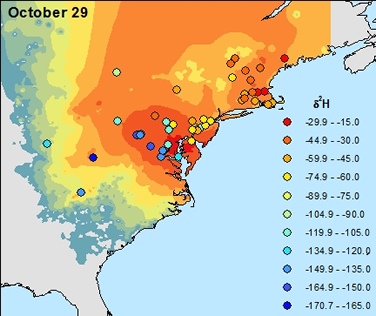 Support from the National Science Foundation allows the ITCE program to provide scholarship support for a limited number of student participants in each course. Scholarships will be awarded competitively and are available only to applicants who are graduate students. Scholarship applications can be submitted as part of the course application process, and require an additional short essay and second letter of support.
Post-course Opportunities
Student participants will be eligible for project-supported, post-course exchange visits to conduct research in residence at with one or more ITCE instructors.
ITCE News!
---
Congratulations to the
RECIPIENTS
of our 2015-2016 Research-in-Residence Awards!
---
AGU 2015 is coming up! Check out a list of ITCE-affiliated posters and talks here.
---
SPATIAL & IsoCamp 2016! dates are June 13 - 24. Application window will open in December!
---
Postdoctoral Opportunity! Applications being reviewed now! View complete announcement here.
---
November:
New Publication - Vander Zanden in Journal of Avian Biology (here)!
September:
New publication - Former SPATIAL participant Jaivime Evaristo in Nature (here!) discussing the compartmentalization of global surface waters. Plus, commentary on Evaristo's work by G. Bowen in the same issue (here)!
August:
In the media - Hannah Vander Zanden, along with over 50 other researchers, sample 70 sites along the Red Butte Creek watershed! (Read more here)
In the media - Applications of the Hestia model and street-level air monitoring on Climatewire (here)!
July:
New publication - Good, Noone, & Bowen quantify evapotranspiration subcomponents & hydrologic connectivity of soil & surface waters in Science (here)!
June:
New publication - Good, et al. discuss D/H ratios in global water cycle - Geophysical Research Letters (here).
---
---
IsoMAP is a dynamic, online workspace for spatial analysis, modeling and prediction of stable isotope ratio variation in the natural environment. The initial realease of the IsoMAP gateway is now live and supports precipitation isotope ratio modeling. Visit IsoMAP to learn more or to start making isoscapes today!